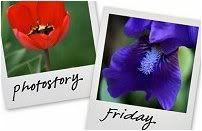 Hosted by Cecily and MamaGeek
MetaBoy has an announcement to make.
Drrrrrrrrrrrrrrrrrrrrrrumroll, please.
MetaBoy has a brand spanking new baby sister, MetaGirl, for whom he has vowed to look after and protect as much as any two year old can. He's promised to try to be "gentle" and "quiet"...within reason. And seems to even empathize with her pain, as he's been known to cry if he hears her crying.
MetaGirl, for her part, does what she can to keep herself pacified.
She's found and lost her thumb several times. When not seeking out such comforts, she's either nursing, sleeping, hiccuping, or intensely staring at one of her new family member.
All in all, we're all happy, if a little tired...