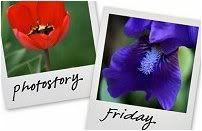 Hosted by Cecily and

MamaGeek
So, we went to Disneyland as a family for the first time. It was fun, but honestly, we didn't get as much out of it as if the kids were a bit older. That said, kids under three are free and we (MetaDaddy and I) had tickets for free admission, so it was a fun experiment.
It turns out that MetaBoy is still not past his "people in suits freak me out" stage. Santa, for example, is not a welcoming figure for our little lad. Dude, can you blame him?
Anyway, here's our story.
******************************************************
"Holy Crap? Seriously? There's a bear behind me? Shouldn't we be running?"
"Dude!! You scared me. I thought it was a bear! That's some dork in a costume. Whew!"
"In fact, take a picture, mom. A picture of me with a bear. Ha ha."
"AAAAAAAAAAAAAAAAAAAAAAAAAAAAAAAAAAAAAAAAAAA!!!!!!!!!!!!!!!!!!!!!!!!!!!!!!!!!!!!!"
[Pant, pant, pant, pant...]
"Ya, I know it's leaving, but is it coming back? That wasn't cool. He was behind me, then next to me. Those things move FAST!! Can I have a pain au chocolate? You know, you settle my nerves. Peeeeeeeeezzz?!?"