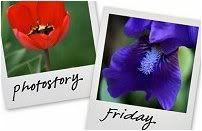 Hosted by Cecily and MamaGeek
City girl that I am, I've never seen certain things.
I've seen cows, sheep, donkeys, etc. up close, but not until I was well past 20.
Although I vaguely remember seeing goats, chickens, ducks, etc. at a petting zoo when I was 8, they freaked me out.
Tractors, ploughs, combine harvesters (which make their way into many toddler picture books, btw) were as rare in my world as the
Loch Ness monster
. Mythological creatures, if you will.
This past week, I saw my first tractor in action. No, we didn't visit a tractor showroom. Nor did we visit Iowa. We just went down to the beach. Unfortunately, the photo was taken with my phone, so the tractor is teeny tiny. But it's there, I promise!!
On that note, more sand tractors, or proof thereof:
Someone else's sand tractor
One of the cuter sand tractors
Sand tractor tracks